Here are some sketches from my sketchbook. I haven't been doing the daily prompts or even drawing daily but I am drawing as much as I can. Quite a few of these were done in the Boiler House at Footscray hospital as it is a good opportunity for me to draw because I have a little waiting to do there. Some of these were also from the scavenger hunt at WetCanvas last week.
1. First is a very large valve.
2. An alarm panel in the boiler house!
3. Obviously, a hairbrush and some batteries in the back of the remote control.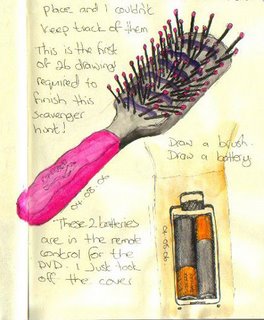 4. My favourite toy, well one of them, Gameboy and my favourite gameboy game.
5. Oxy-Acetylene, gas welding set.
6. My mobile phone.
7. The kitchen sink and the plug from it.
8. Electric shaver and one of my drawing pens.
9. A pump from a large plant room at work.
10. Tools from my tool box! Well, some of them.